Can't Find Exactly What You're Looking For In The Monitor Gallery? Create Your Own!
Aiera allows you to create your own Monitors that meet your exact specifications and coverage interests. As a quick recap, a Monitor is a collection of Searches tied together by a common theme. A Search is a single column feed, with results scoped by keywords, equities, sectors, Watchlists, and more. Monitors can host as many searches as you'd like, and the entire Monitor can be scoped and filtered to surface even more targeted parameters.
Here's how to create your own Monitor:
Step 1 - Click Blue "New Monitor" Button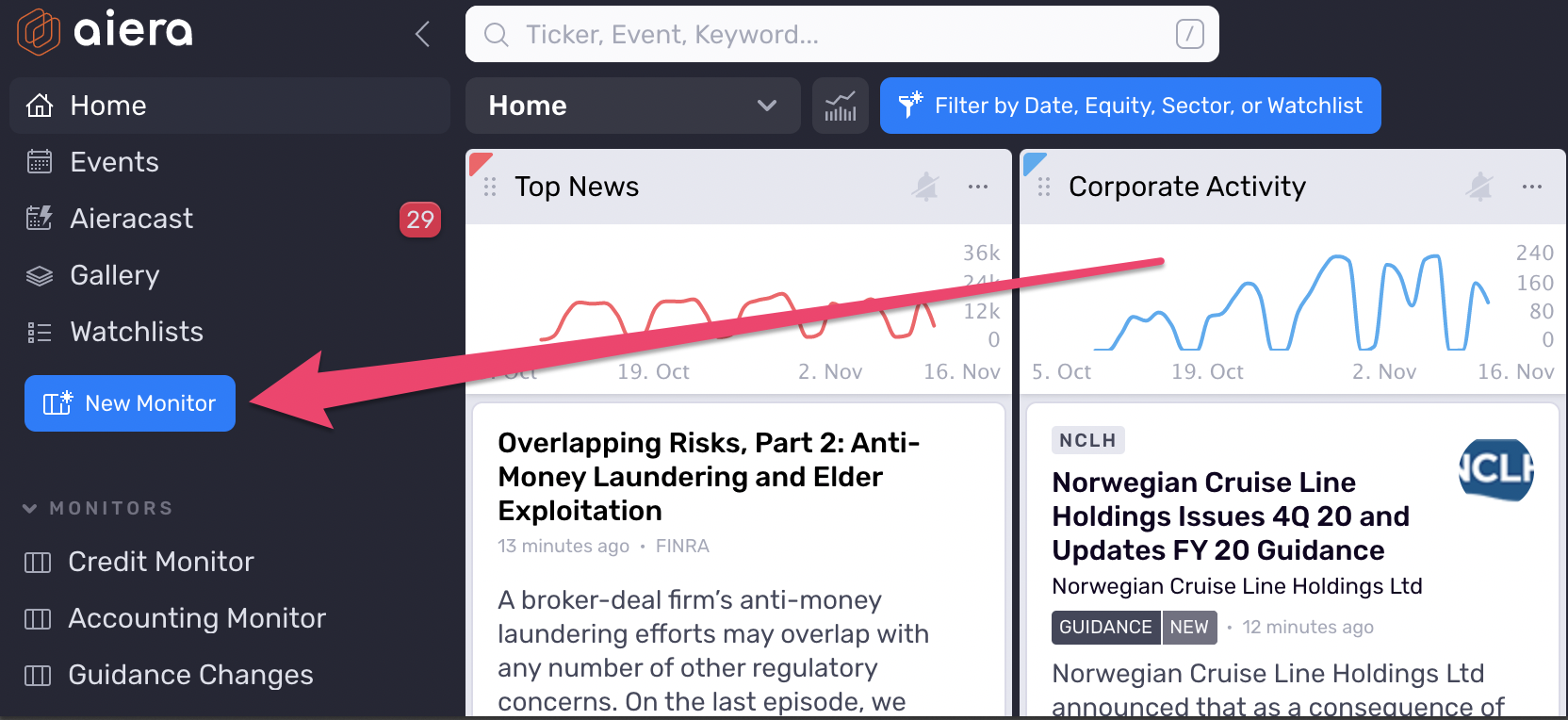 Step 2 - Begin Your Initial Monitor Setup
In this example, we will be creating a Monitor covering Electric Vehicle Trends. First, you will name, describe, and set your accessibility for your new monitor, as shown below: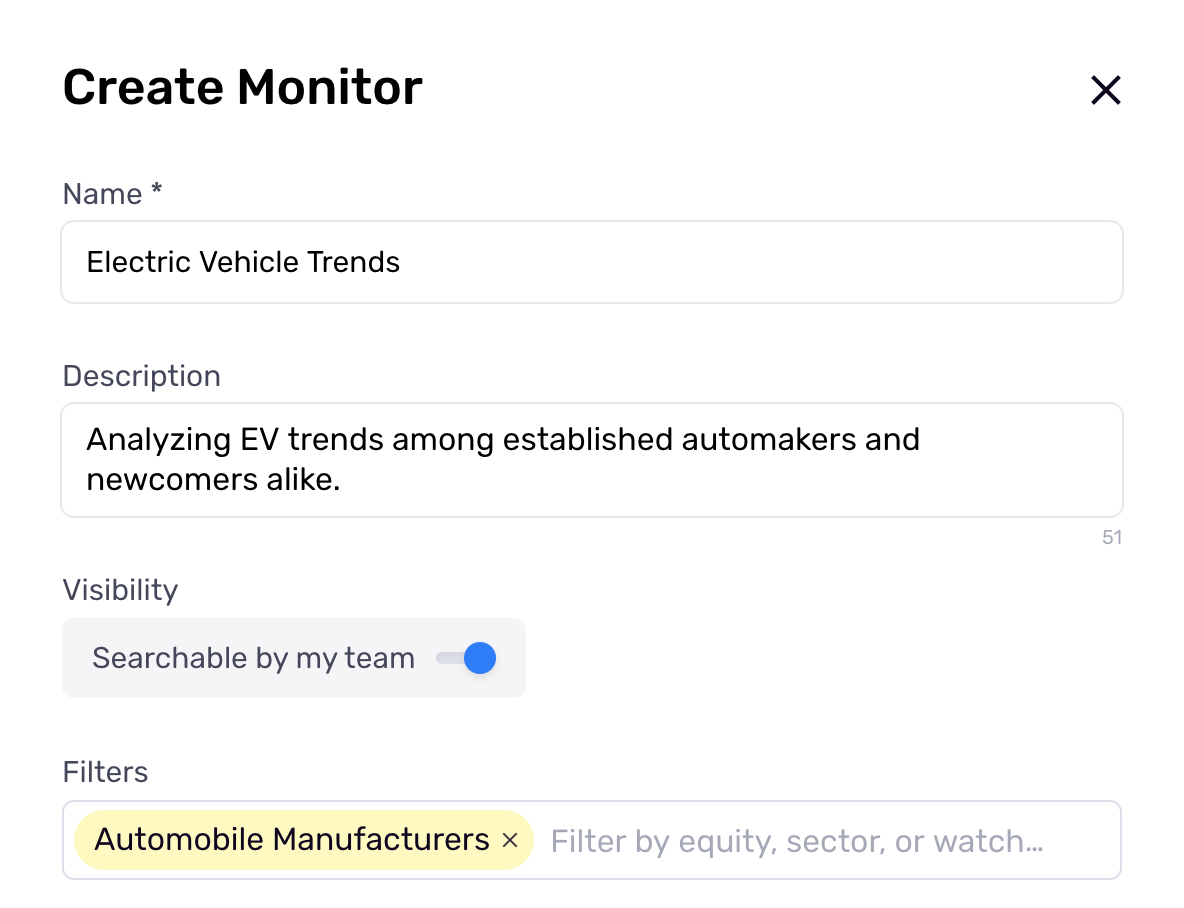 Additionally, you can create bulk Searches directly underneath in the setup stage, as shown below. Let's skip this step for now, as we will create different Searches one-by-one later in this article.

You can also set tags, equity scopes, and more in the setup phase. Again, we will skip this step for now and apply filters later on.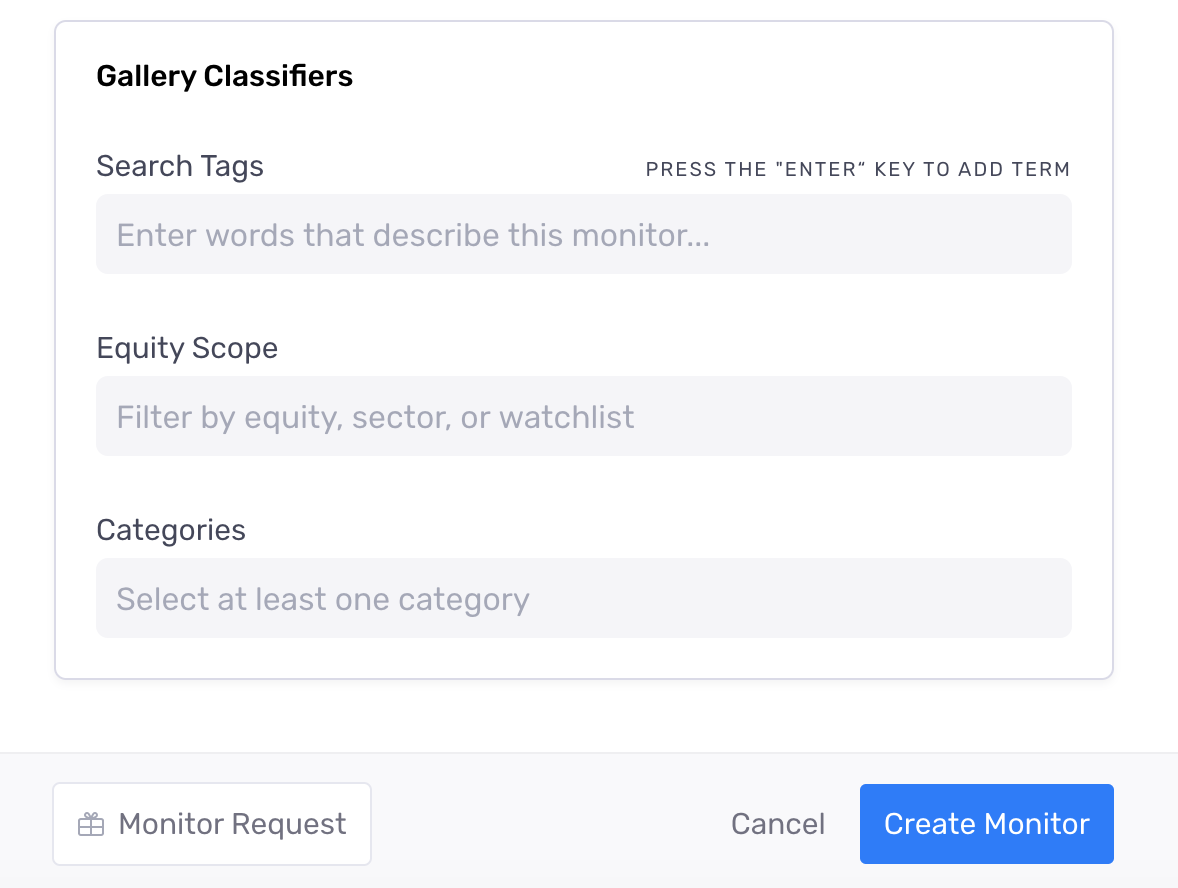 Step 3 - Start Building Out Searches
Once you click "Create Monitor", you will be dropped into your empty Monitor (since we did not bulk-create any Searches in the previous step). To start building Searches, you will click the blue "New Search" button in the middle of the screen, as shown below.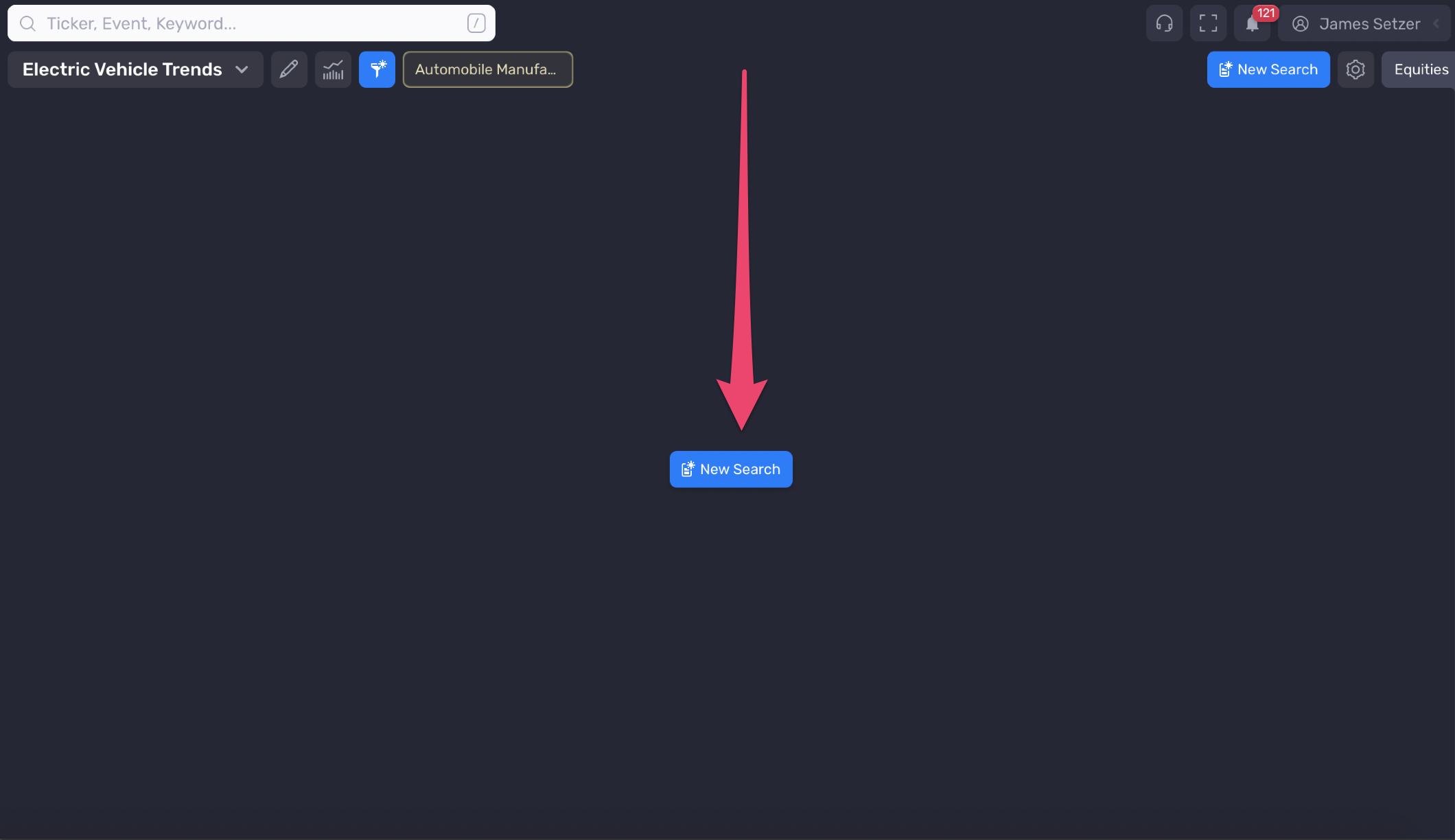 To start your first Search, you must select the content type you wish to populate. Together, we will create one of each of the following Search types: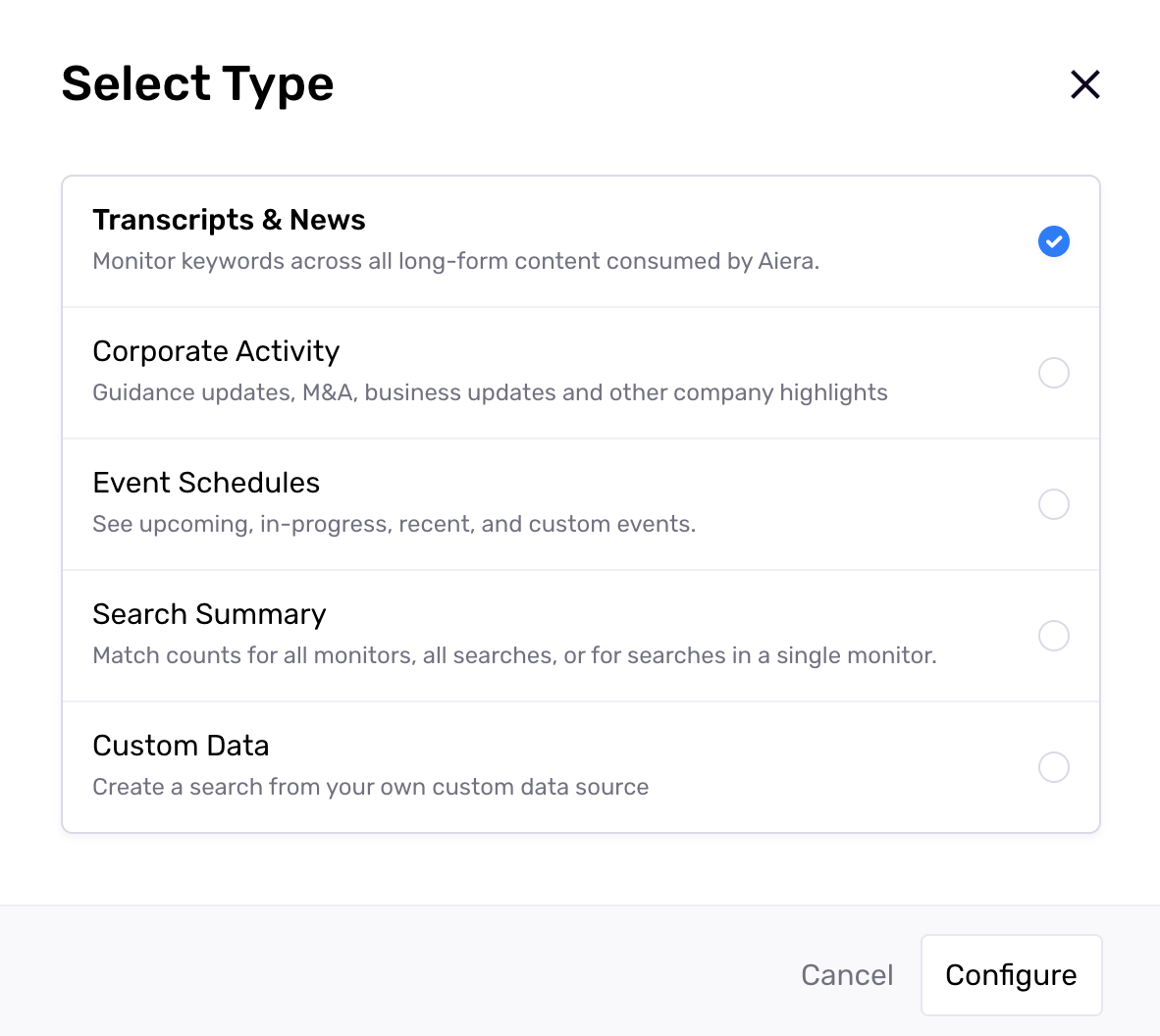 1. Transcripts & News
Input as few or as many key terms as you would like to monitor related to your topic of choice. In this case, we are interested in surfacing all news and transcript mentions of auto manufacturing companies as they discuss Electric Vehicle Trends.
Remember to put quotation marks around terms that you want EXACT matches for. Otherwise, Aiera will surface synonyms as matches.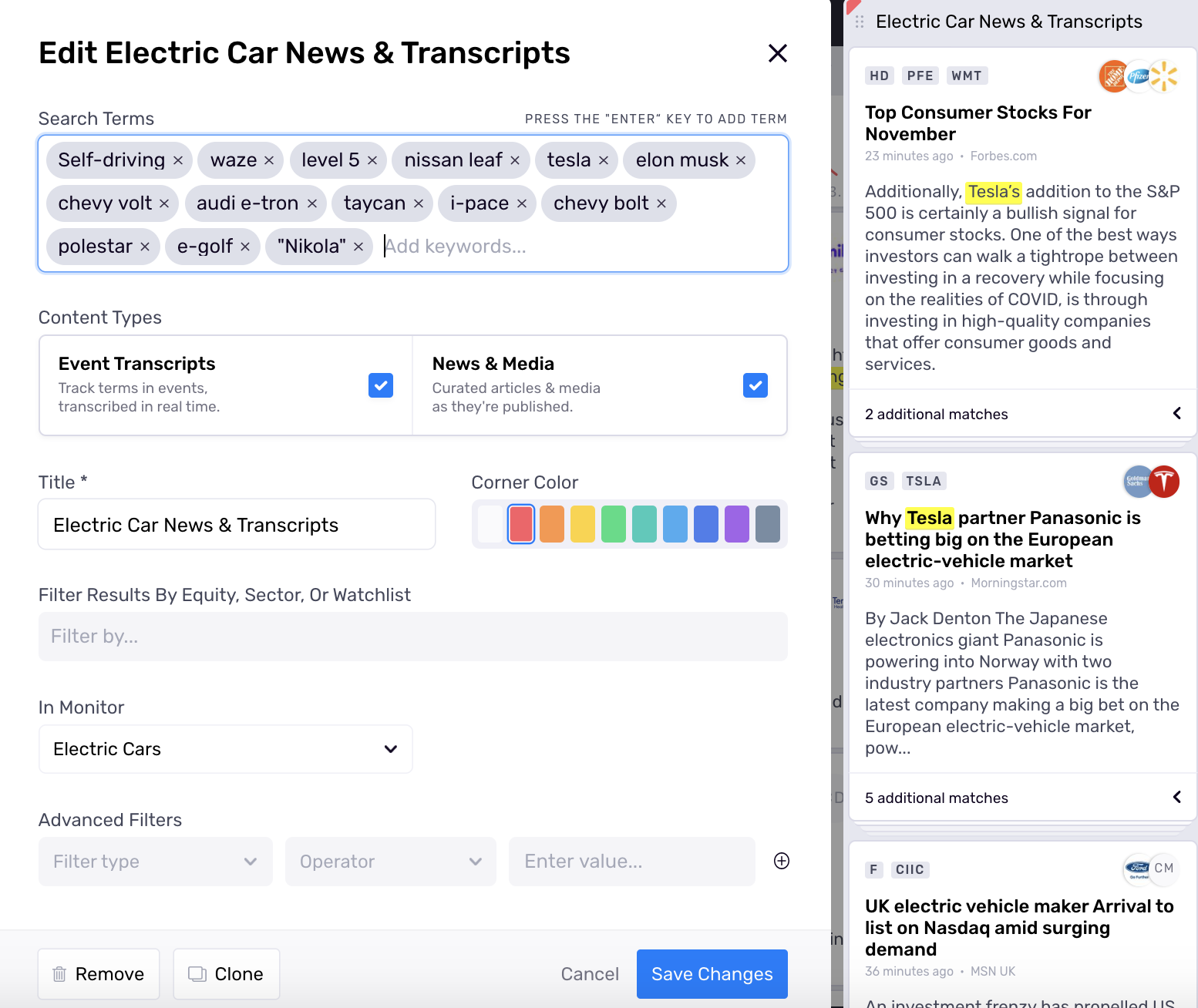 Click "Create"
2. Corporate Actions
Here we are creating a Search that surfaces all Corporate Actions taken by auto manufacturers that reference electric-centric terms.
Types of Corporate Actions surfaced include:
Guidance Changes
Asset Purchases
Buyback Authorizations
Partnerships / Alliances / JVs
Major M&A Announcements
For example, this Search will surface if an auto manufacturer like Tesla enters into a partnership with a lithium supplier to increase battery production.
Click "Create"
3. Event Schedules
Event Schedule Searches surface the most up-to-date lineup of upcoming and live investor events and earnings calls being made by the group of your choice, which in this case is auto manufacturers. If you cover the auto industry, it would behoove you to be on top of when your equities under coverage are presenting or reporting anything publicly.
Remember, Aiera provides one-click entry into these events. Just press play and start listening.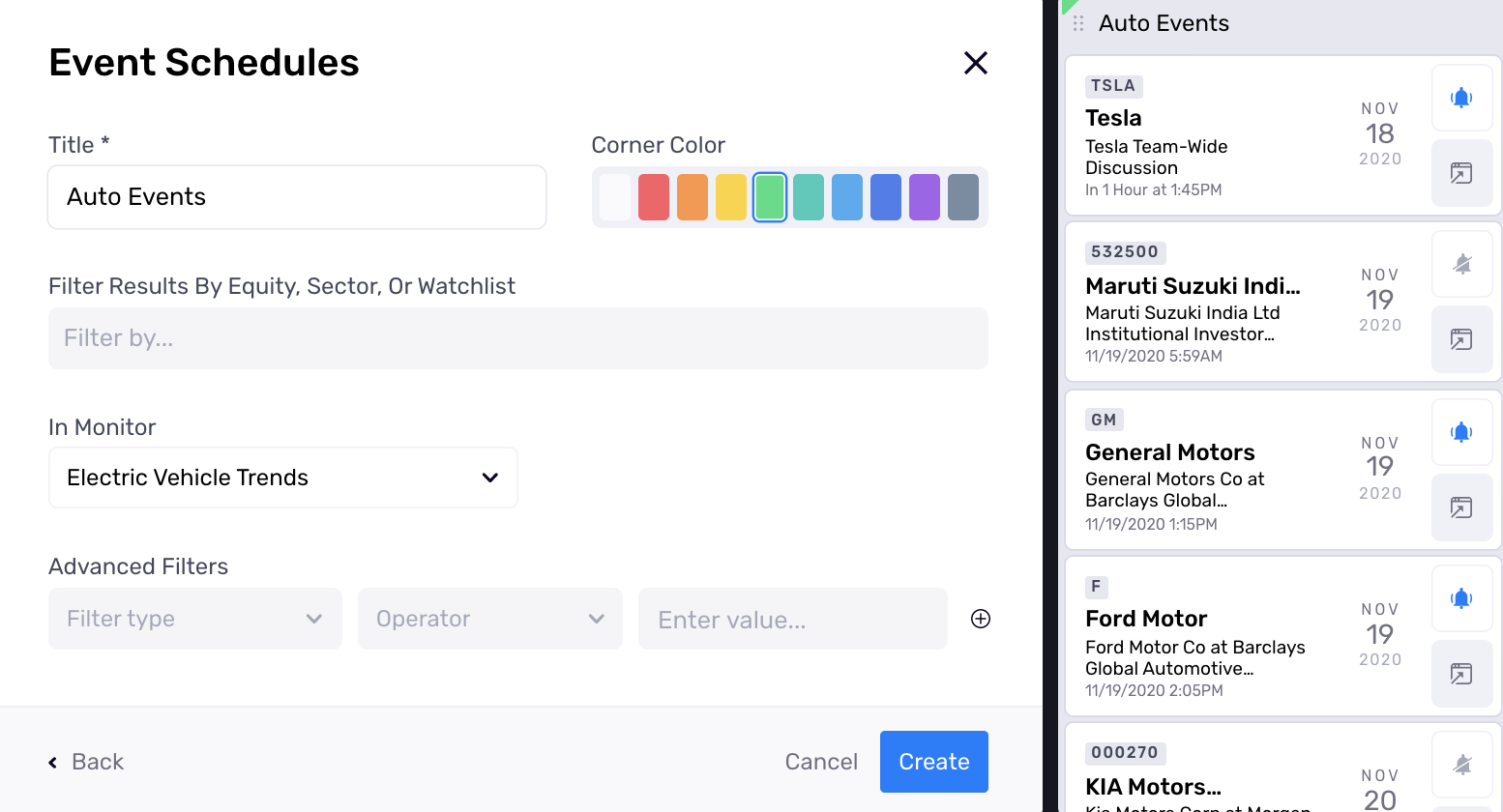 Click "Create"
4. Search Summary
A Search Summary is a column that shows you a high-level overview of the umber of mentions and matches for the other Searches in your Monitor in a given time frame. See where the most activity is occurring and who is saying them.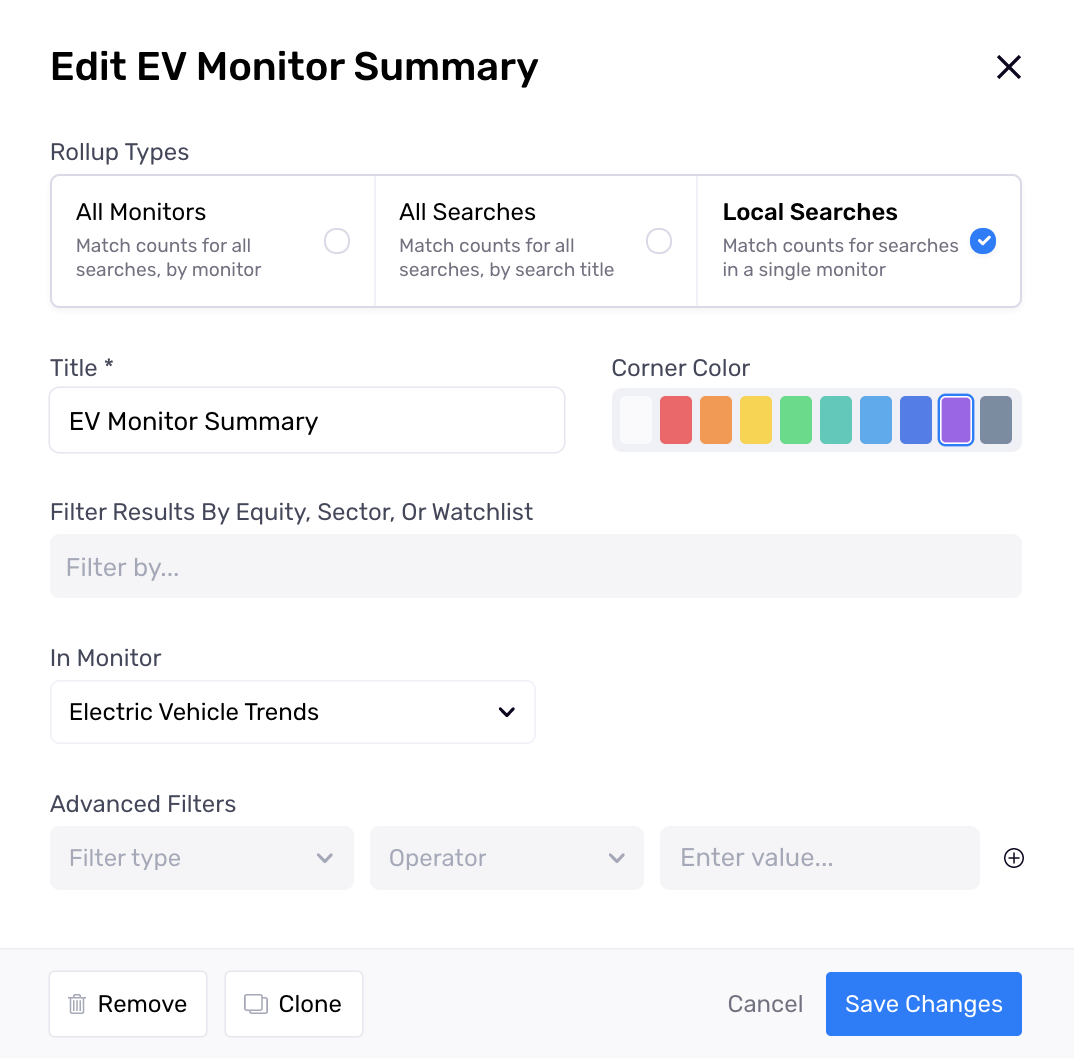 Click "Create"
Here's Your Completed Monitor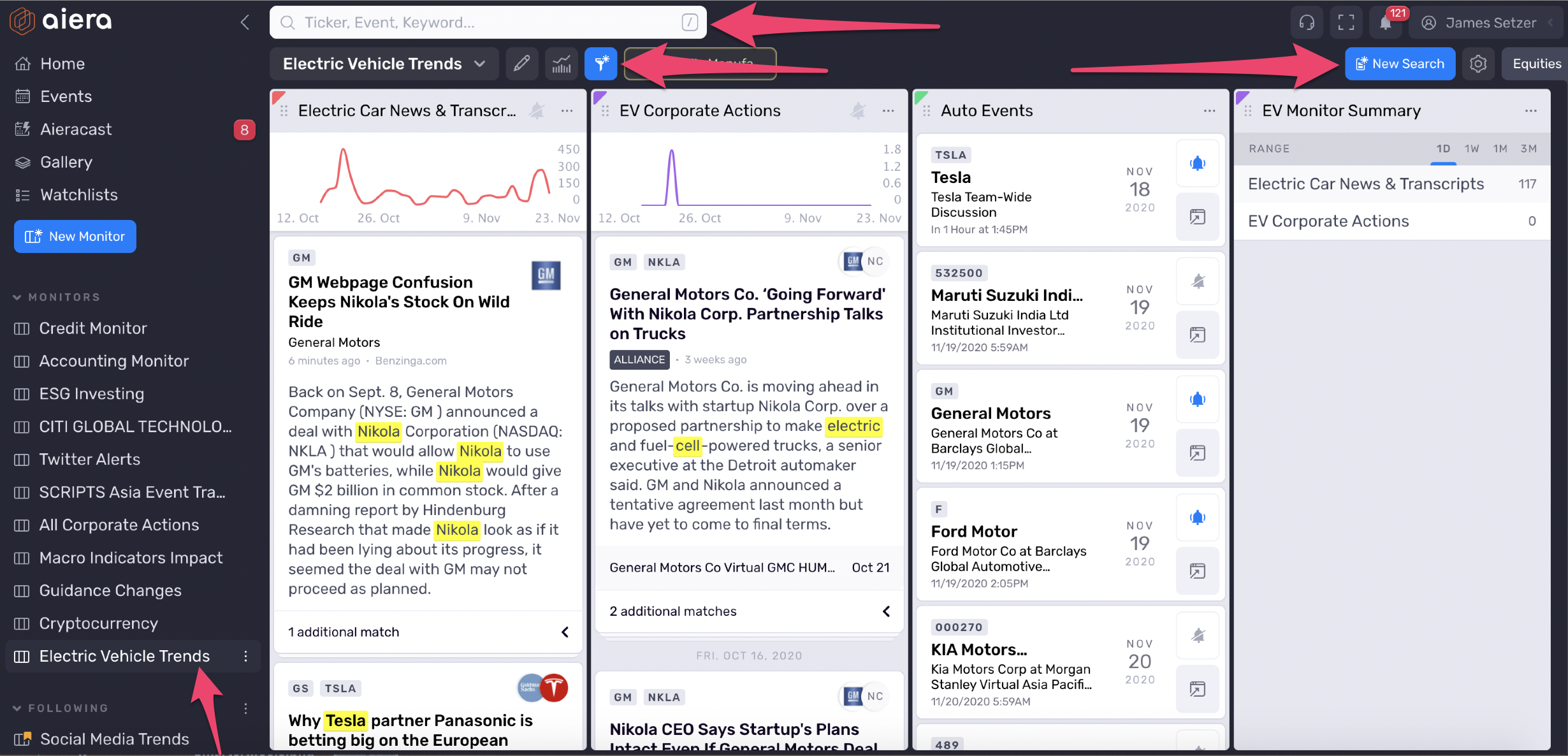 The 4 Searches we created are now populated in your Electric Vehicle Trends Monitor, and can be found in the left-hand navigation bar.
Additional Tooling Within Your Monitor
You can click into your Search Matches (Cards) for additional context on each match
You can set Alerts for upcoming Events, and review Transcripts of past ones
You can filter your Monitor further by equity, Watchlist, market cap, geography, and more
You can edit your existing Searches by clicking the Pencil icon at the top of each Search column
You can continue to add Searches by clicking the "New Search" button in the top right corner
And Remember, Premium Users Can Request Custom Monitors From Aiera's Research Team!
Any additional questions about creating your own Monitors? Just ask us!