Aieracast - Access & Stream Multiple Investor Calls Side-By-Side
By now, you have likely already read our "Events" article, which explores Aiera's single event and earnings call interface. Aieracast is everything powerful about Aiera Events, but geared toward the ultimate multitasker.
Never Have To Choose Between Earnings Calls Again
Aieracast is different from Events in that Aieracast allows you to access, stream, and transcribe ALL earnings calls and investor events that are happening live, simultaneously.
Why does this matter? During the peak of Earnings Season, over 500 earnings calls are happening per day. Now, analysts no longer have to choose between earnings calls with Aieracast.
Start Using Aieracast
Click "Aieracast" on the left-hand navigation bar to be taken to the Aieracast experience (shown below).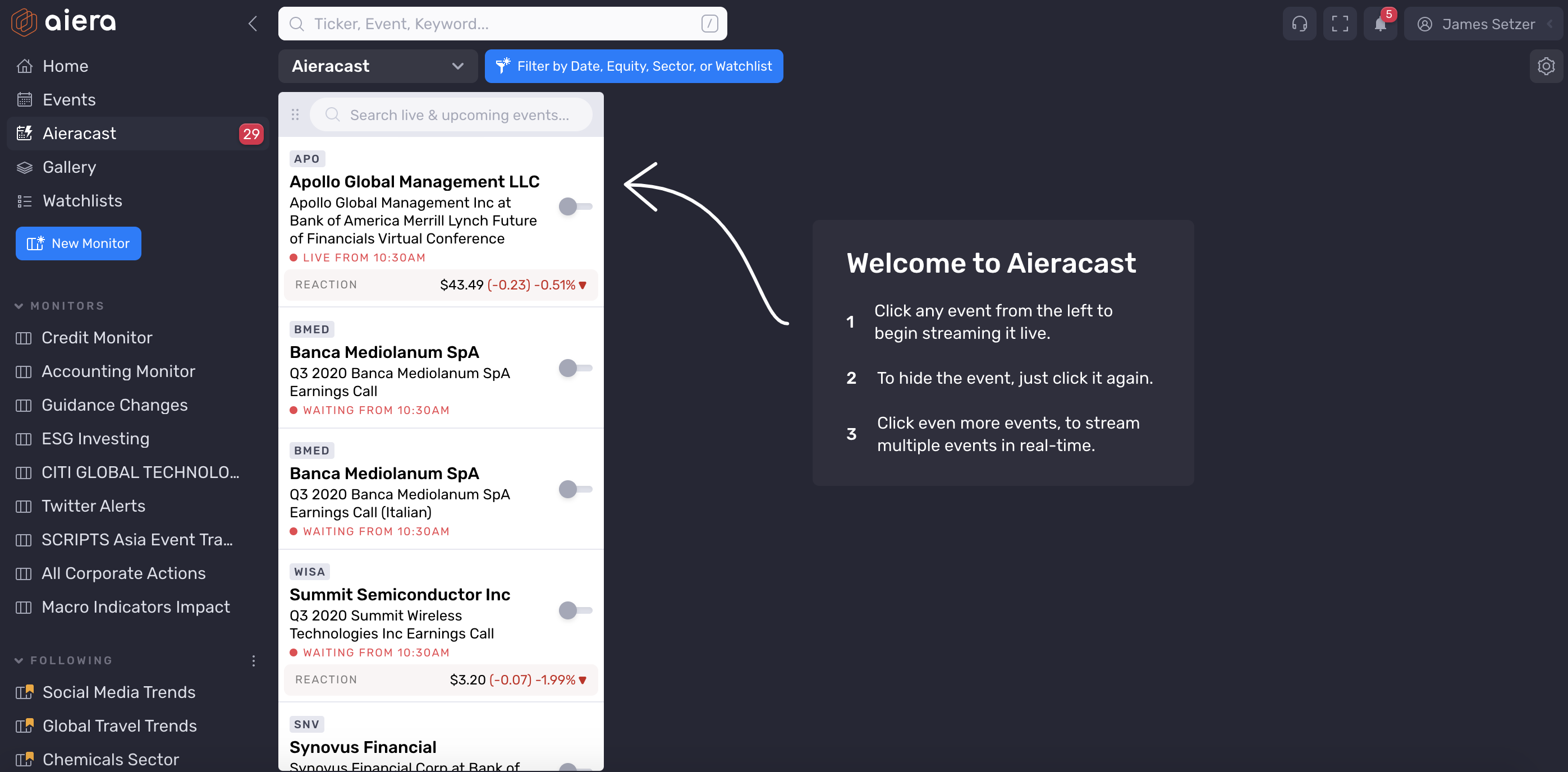 Stream Multiple Calls Side-By-Side In Real Time
Aieracast's default empty state has no running calls, it's up to you to toggle them on and off, based on what you want to see (demonstrated below). As calls are toggled on, the equity's price chart and real-time transcription will instantly begin populating.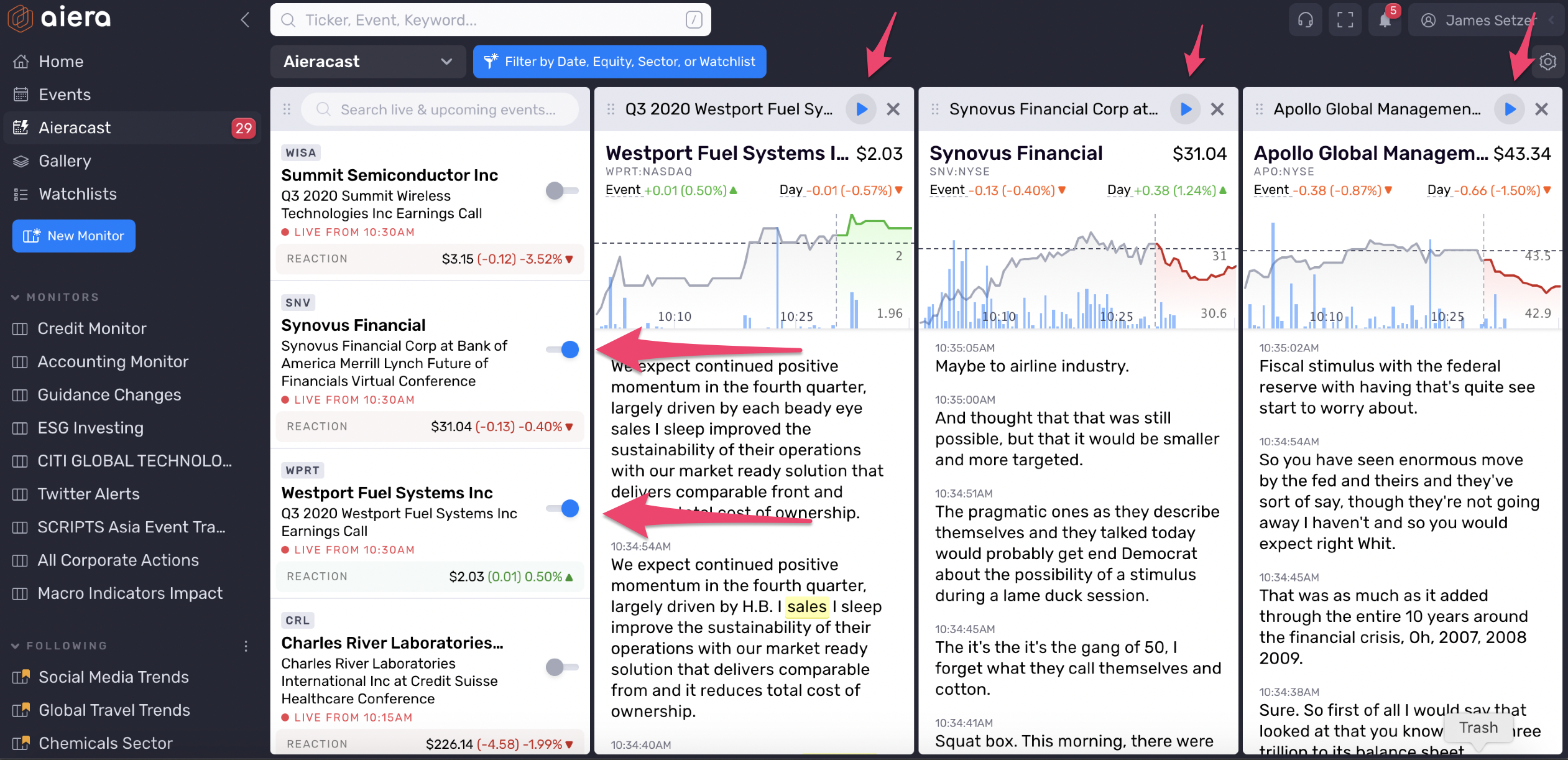 Helpful How-To's:
Populate Calls: Simply click the toggle buttons in the left hand column to turn on/off the calls you would like to stream side-by-side
Listen To A Specific Call: Click the Play Button at the top of each call to instantly tune into the live call as it is happening
Remove A Call: Simply click the X next to the Play Button to remove a call if you no longer wish to see it or if the call has ended
Discover Themes Between Concurrent Live Calls: Use the Search Bar at the top of the screen to search for mentions and matches between the calls that are currently live in your Aieracast experience
Drill Down Into One Specific Call: Click the Event Title at the top of the stream to be taken to the single event view, as previously demonstrated in our "Events" article (shown below):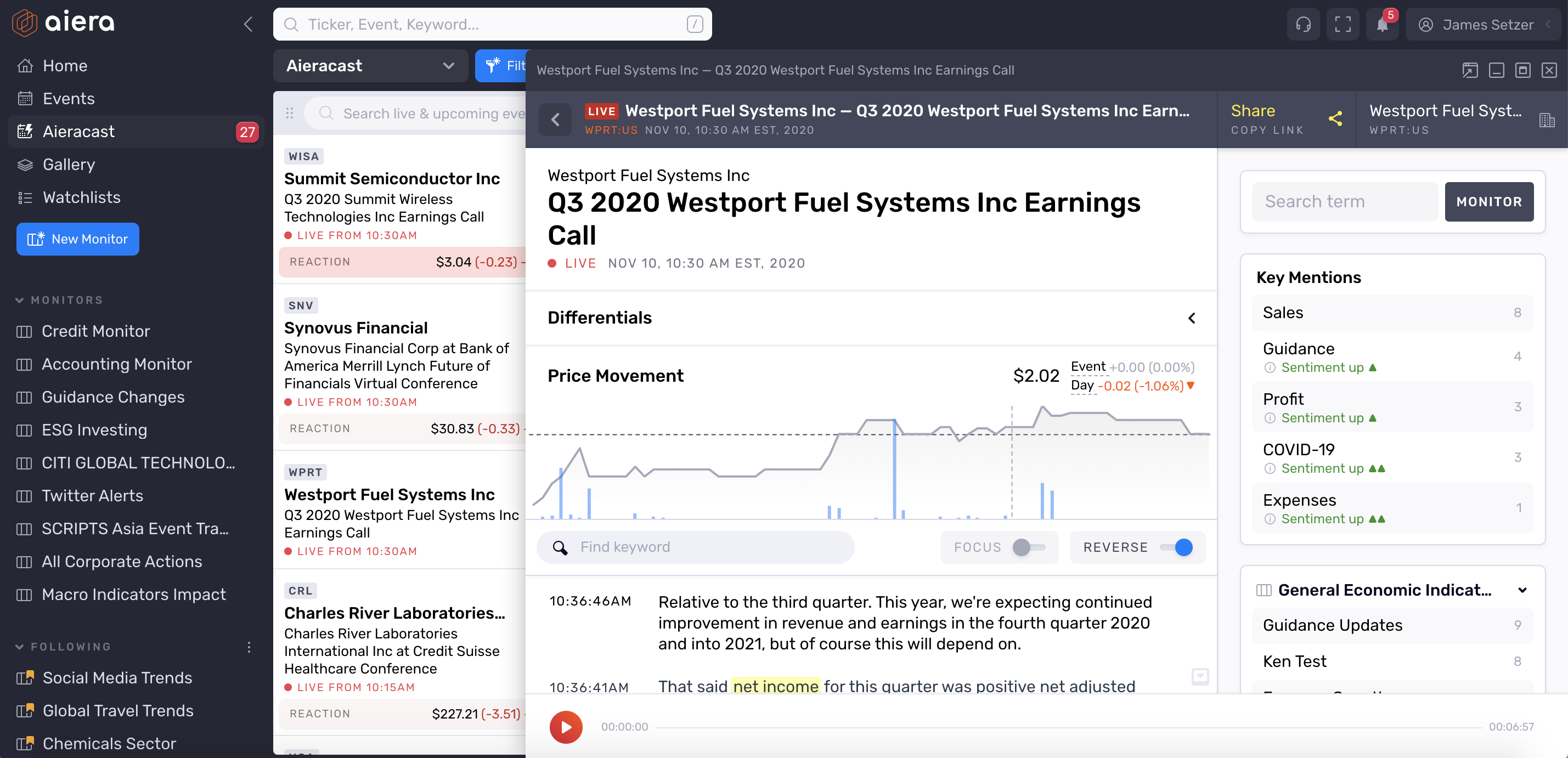 Earnings Season - When Aieracast Truly Shines
"Aiera has saved me more times than I can count during earnings season, as I'm able to read live transcripts when I have 3 calls at once and not miss management remarks or show up to Q&A unprepared."
- Sarah Hindlian Bowler, Head of Software Research, Macquarie Group
Any other Aieracast questions? Just ask!