Say Goodbye To The Tedious Process Of Connecting To Earnings Calls
Investor Event Access is Aiera's bread and butter, with over 40,000 events covered annually across 10,000+ global equities. Aiera's Events tab takes you to a dashboard populated with the financial events and earnings calls that are:
Currently Live
Happening Later Today
Recently Completed
Events covered include earnings calls and related company events, analyst days, investor days, business updates, major conferences, shareholder presentations, and much more.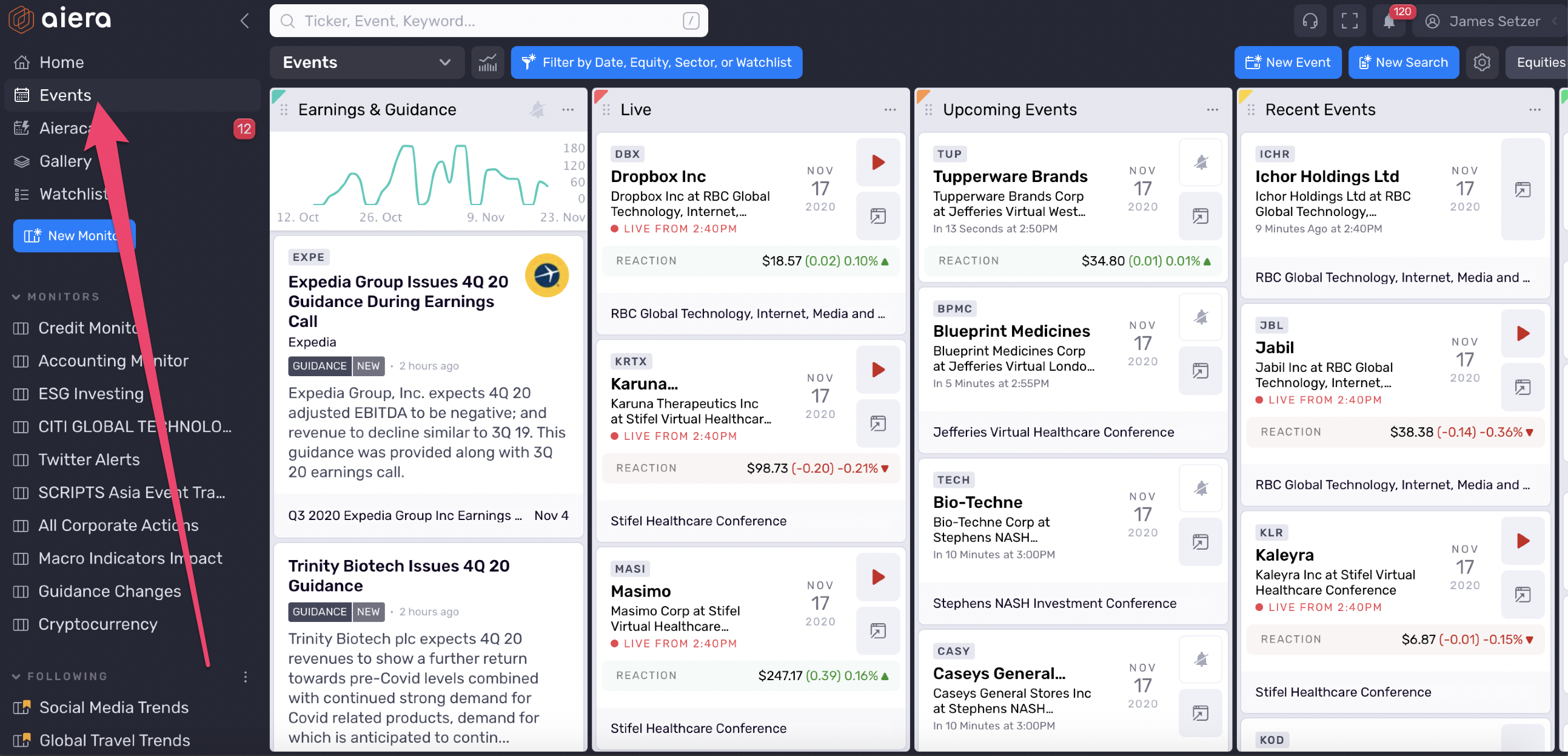 Additionally, Aiera surfaces notable corporate actions, guidance updates, and news coming from the events and management commentary covered on the platform. Simply click into any card for additional detail and related events.
How To Access Earnings Calls & Other Investor Events In Just One Click
Scroll through the Stream of Live Events happening right now and access them all with just one click. Simply press the red play button within the card, or click the event to expand it and press the red play button at the bottom (demonstrated below).
Don't want audio? No problem! Aiera offers the industry's only truly-live earnings call transcription service, with less than 2 milliseconds of delay on speech-to-text transcription.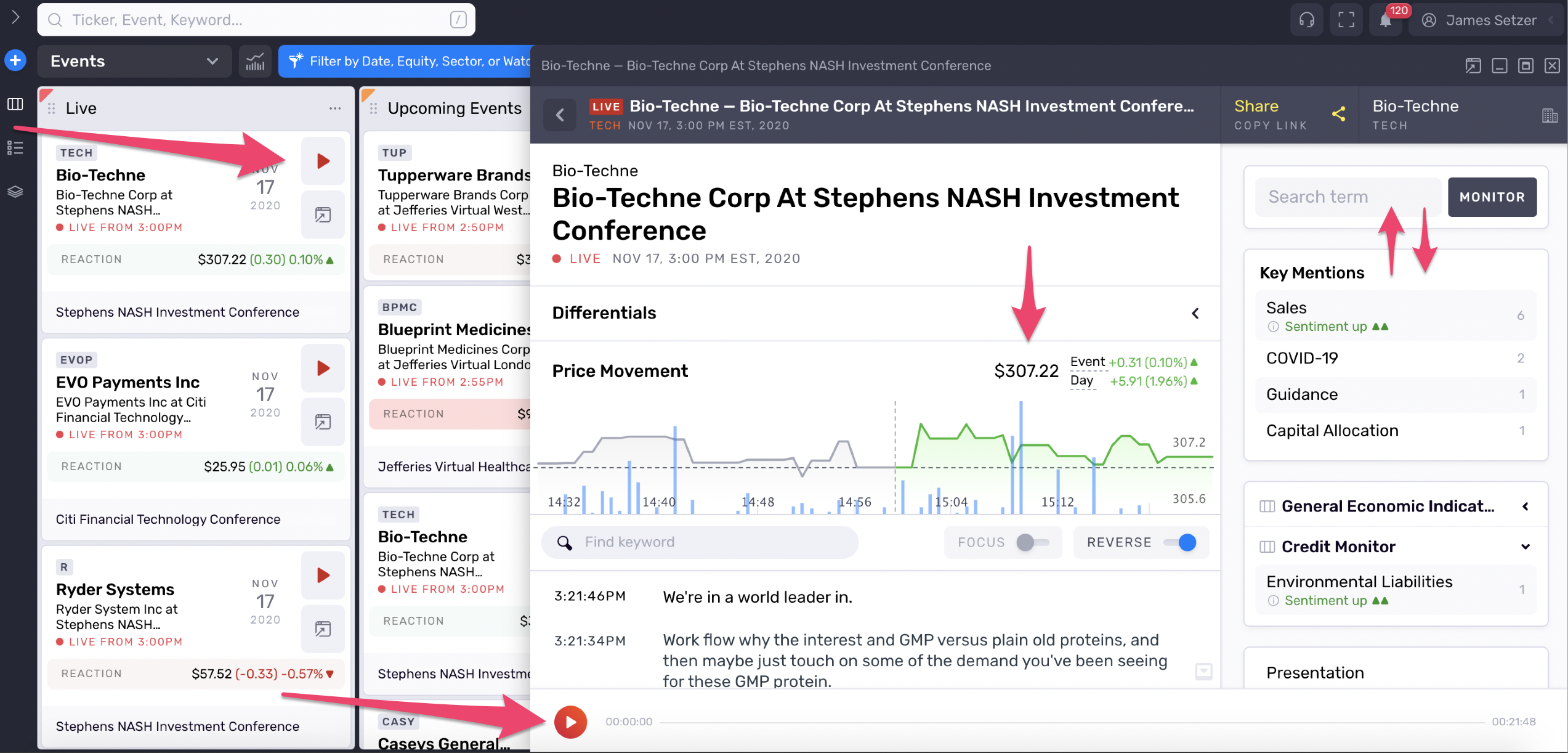 Seriously, it's that simple.
No more dialing in
No more sitting on hold
No more conference ID and PIN numbers
No more missing key statements and schedule changes
Just press play and you're in.
Navigating These Events
Now that you know how to access these events, it's time to unlock their full potential. One-click event access is great, but there's so much more to discover when you experience investor events through Aiera, including real-time price reaction, smart tagging, bespoke summarization, KPI/variance tracking, and so much more.
Build A Bespoke Summary & Search For Key Terms Within An Event Transcript
Aiera offers users the ability to quickly and easily search within transcripts for key terms and matches based on Monitors you have already created. Simply search for a term to highlight all mentions of that term, or click through the matches of your pre-existing Monitors with just a few clicks (shown below).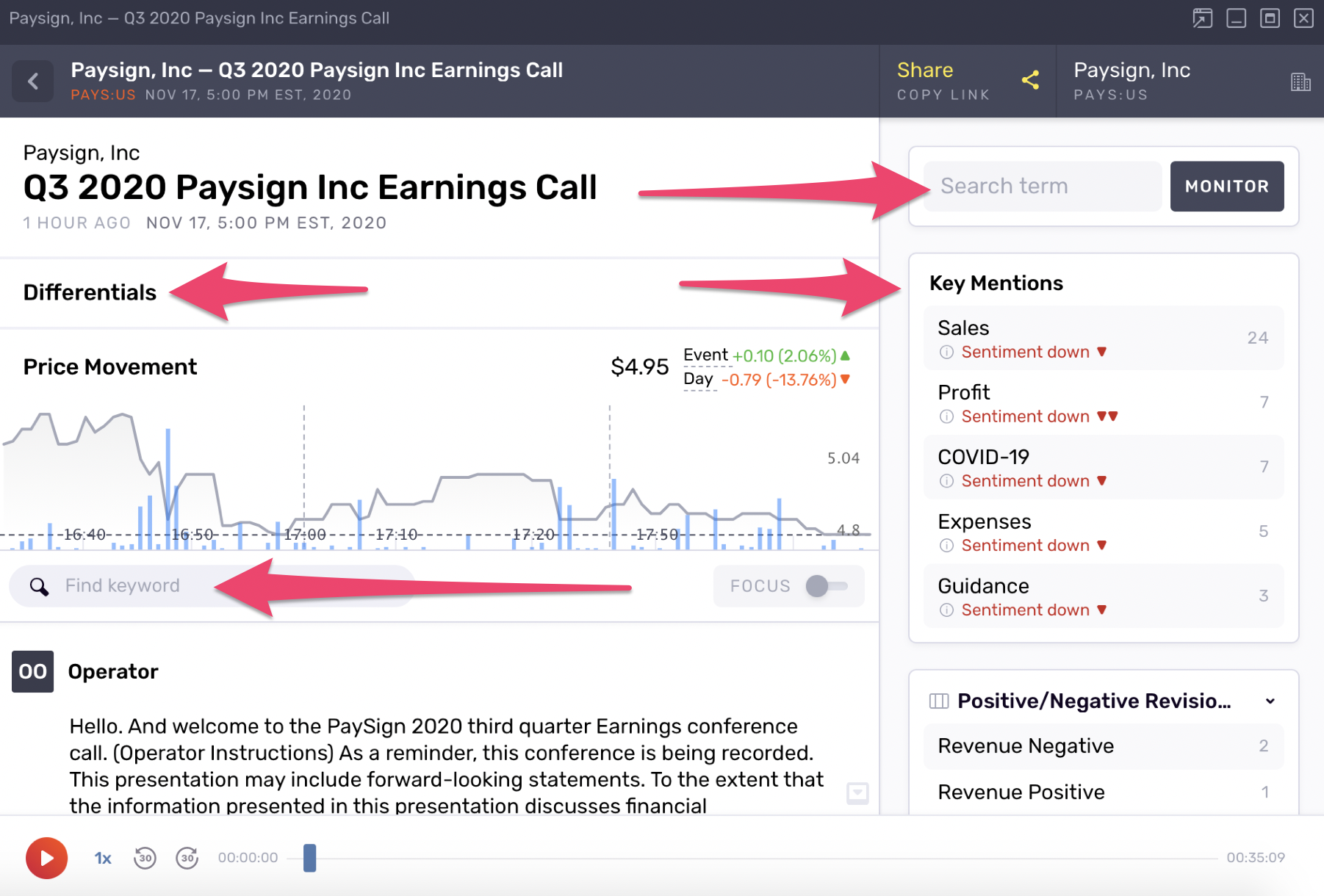 Example: Searching For References To "Covid"
Simply search for the term "covid" in the right-hand search bar to surface all matches within the transcript. It's like a smart, tagged CONTROL + F for earnings call transcripts (shown below).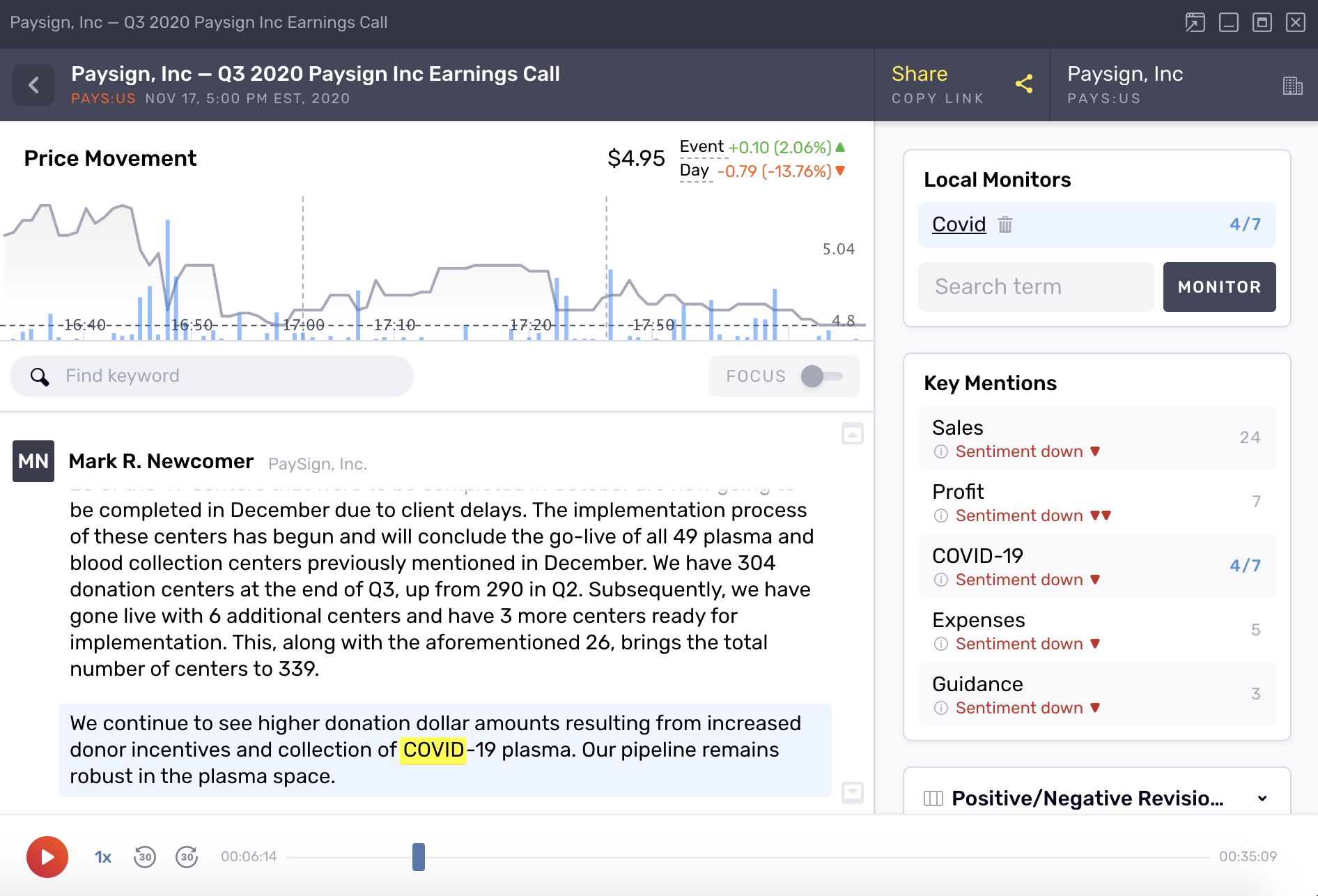 Automatic KPI / Variance Tracking via Differentials
By clicking the "Differentials" tab at the top of the Event window, you open a financial metric tracker as shown below: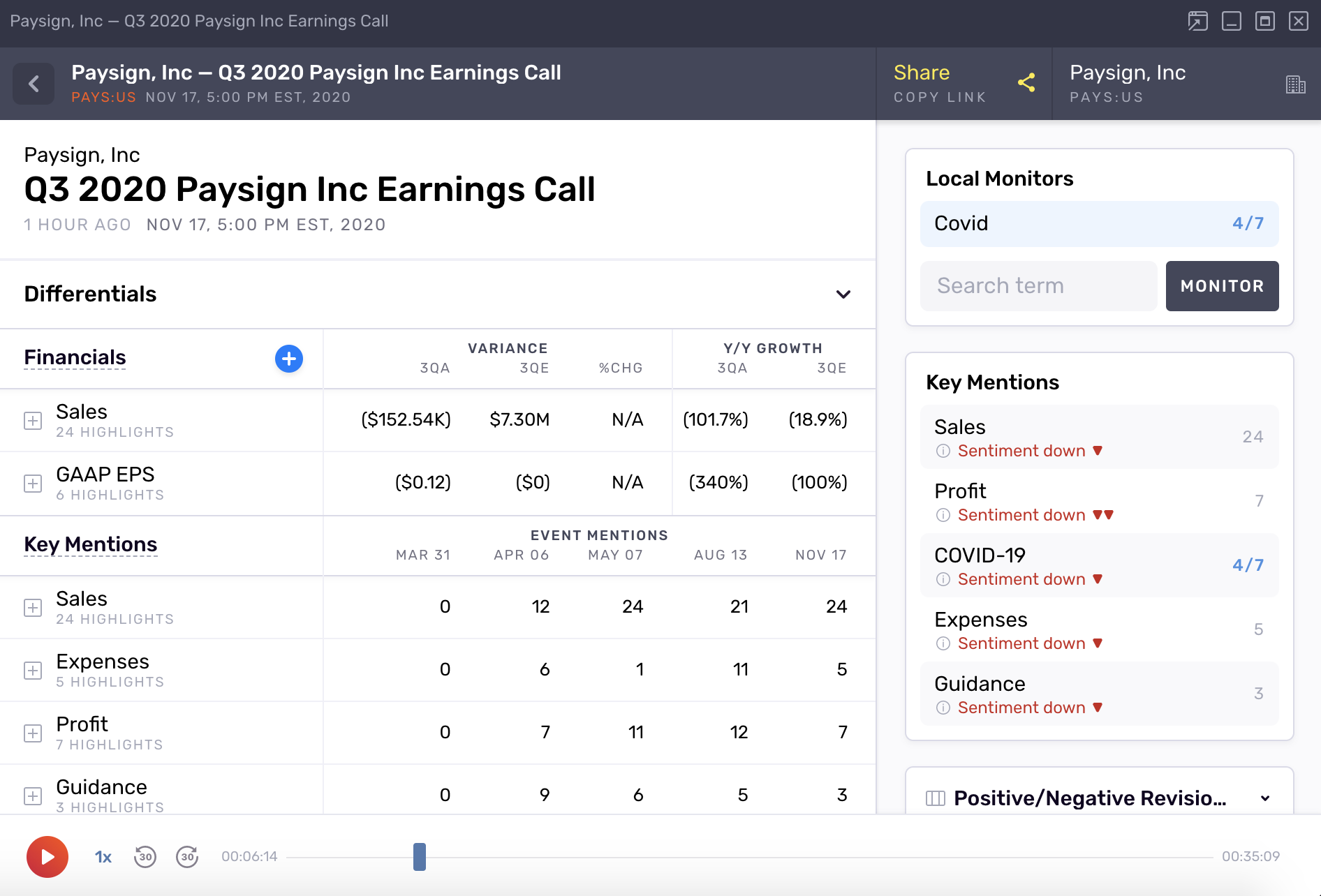 Real-Time Sentiment Analysis
As shown in the photo above, on the right-hand column hosts a Sentiment Tracker based on your existing Monitors and how management is discussing those topics on the earnings call you have open. Click each Sentiment field to be taken to the point in the transcript where that topic was mentioned for additional context.
Any additional questions about Aiera's Event access or coverage? Just ask!